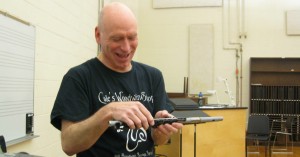 Flutist and composer Norman Thibodeau lives in Schenectady, New York, and is active as a performer and teacher from Central New York through Western New England. He was assistant principal flutist of the Orquesta Sinfónica del Estado de México and is now a member of the chamber group Musicians of Ma'alwyck and the wind quintet Fünf. He teaches flute at Schenectady Community College, the Berkshire Music School, and privately. He has recorded solo flute works of Anthony Holland for Albany Records, and has had both live and recorded performances broadcast on NPR.
As a composer, he has had works published and recorded by ALRY Publications and by flutist Jan Vinci on Albany Records (a CD very favorably reviewed in American Record Guide). His ensemble compositions have been performed by the orchestra of the University at Albany, the College of St. Rose Wind Ensemble, and the String Ensemble of the Empire State Youth Orchestra. Critical praise cites "dazzling contrapuntal moments" and "crunchy, yet pleasing complexity" (Byron Nilsson in Metroland), and even from his earliest orchestral work, "a remarkable grasp of the medium" (Albany Times-Union).
He combines his flute and composition interests in the medium of "Extended Techniques" for flute, using such sounds as double-stops and an array of mouth percussion. This resulted in invitations to be guest artist of the 2008 Skidmore College Flute Festival, and to teach extended techniques at the Wildacres Flute Retreat (which he continues to do).
Norman was trained at Peabody Conservatory and the University at Albany. He studied composition with Leonard Kastle and Lee Mitchell, as well as counterpoint and orchestration with John Henry Carton. His flute teachers include Irvin Gilman, Robert Dick, Stephen Preston, and Britton Johnson, and he has performed in masterclasses of Trevor Wye, Thomas Nyfenger, and Julius Baker. In recent years, both his playing and teaching are informed by the Feldenkrais Method, of which he is a trained practitioner.